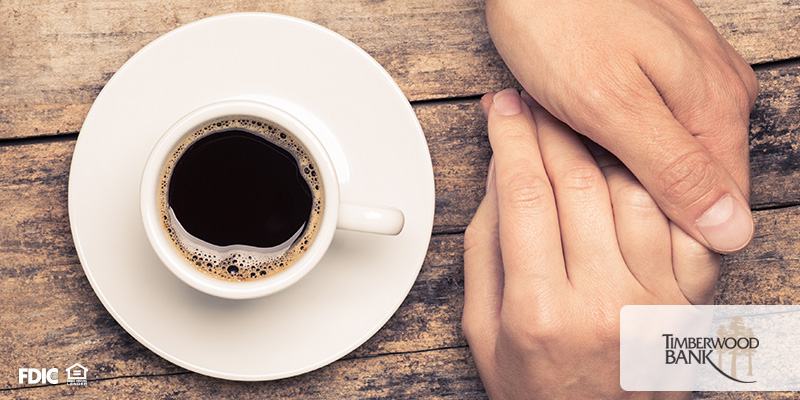 What do you dream of doing when you retire? Relaxing at home, traveling the world, or maybe a mix of both. Wherever your retirement takes you, you'll want to be sure your savings can support your future lifestyle. Keep your dreams on track and follow this simple guide courtesy of Timberwood Bank.
When you decide to retire, you start to receive the benefit of those hard-earned savings you've tucked away. Interest earned from these savings, along with any assistance you may receive, will soon become your primary source of income. This means that in order to have a successful retirement, you need to have a successful savings.
As of today, the estimated cost of future income is $16.75. This means that if you want to accrue $1 in earned income each year, you need to keep a savings of $16.75 in the bank. Now, let's say for example, one of your retirement goals is to go down to the local diner each weekend and meet with friends for a cup of coffee. This cup of coffee costs $1.61, and for the sake of simplicity we won't factor in inflation.
$1.61 x 52 weeks = $83.72 for your yearly coffee.
At $83.72 for the year, that would calculate to be $837.20 over the course of a decade, and $2511.60 over the next 30 years. However, once we calculate the current dollar of future income:
$83.72 x $16.76 = $1403.15 to cover your coffee for 30 years.
By this measure, you can pay for $2511.60 of weekend coffee, over the course of 30 years, by utilizing the $87.72 yearly interest on a total sum of $1403.15.
Concepts like this help showcase the incredible potential your retirement can hold! If you're curious on how to maximize your savings, stop in today to speak with one of our knowledgeable personal bankers. We'll help show you how to have your coffee and drink it too!