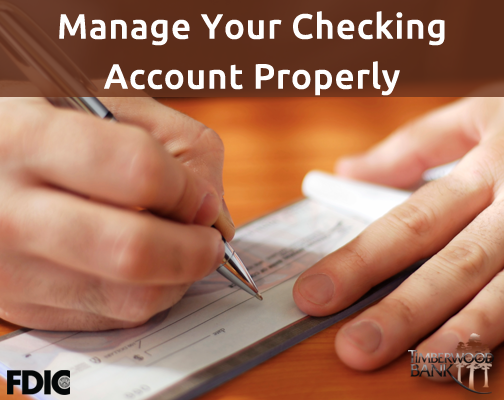 We all have that friend or person we know that is good with money. It seems like they always have enough cash on hand or make the right financial decisions. How do they do it?
Most likely they manage and examine their finances at least once or twice a week. However, not all of us have the time to do that. Keeping track of the money in our checking account is hard enough. Here are a few ways to keep an eye on your account:
Use your checkbook's ledger- record any purchases you make with a check in the ledger that came with your checkbook. This is easiest to do as you write the check. Simply fill out the check, then record the date, amount being paid, the check number and any other information you have space for in the ledger.
Use online or mobile banking- if you have access to an online banking or mobile banking account, you will be able to track your transaction history. This helps prevent overspending and ensures the money you are spending is going to the right places.
Check your monthly statements- you should be receiving monthly account statements, either through the mail or through an electronic delivery system like eStatements. These allow you to see all purchases and deposits for your checking account for the last billing cycle.
Use a telephone banking service- many checking accounts and financial institutions offer a telephone banking system. You may be able to check account balances, review checks and transactions over the phone.
Call your bank and ask- if you ever have questions about your account, you are well within your rights to call and ask your financial institution about them. As your bank, they have the responsibility to help you with any issues you run into.
Remember that managing your checking account is a continuous process, not a one-time thing. You have to work at it in order to be successful at it.
If there is any way Timberwood Bank can help you manage your finances better, please don't hesitate to call or come by our office Tomah. We look forward to seeing you soon!
Timberwood bank, Member FDIC