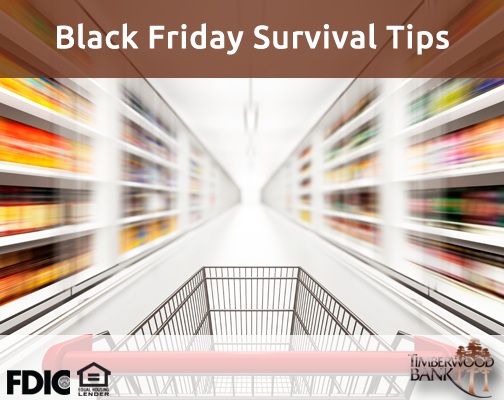 Ah, Black Friday is upon us once again, and while we can't say we're fans of stores opening on Thanksgiving night, we recognize that Black Friday is an annual tradition for many of our customers.
As your bank, we want you to be properly prepared, both financially and in terms of safety. We've compiled some tips to help you and your bank accounts make it through Black Friday unscathed. Take a look and give them a try this year!
Research product quality
Getting a "good deal" on a product that's not well made is a waste. Be sure to check Consumer Reports, Amazon or another trusted online source for unbiased feedback on a product before making a purchase.
Create a list of who you need to shop for
Immediate family members? Check. Grandpa and grandma? Check. Your neighbor, Steve? He probably doesn't need to be on the list. By making a list of those who you really should be shopping, you can save yourself the time, hassle and cost of purchasing unnecessary gifts.
Set a limit for yourself
Whatever your Black Friday limit is, it will help you stay under control when faced with all the great deals that you'll encounter. Total up your spending after each store to keep track.
Compare prices before leaving
Don't head out the door without comparing prices on the items you know you want to purchase. While one store may be closer and more convenient, their price may be much higher than another store that's a little further away.
Set a schedule for the day
Make a list of the stores you are going to visit throughout the day. You can even set how much time you want to spend shopping in each store (waiting in lines doesn't count). Set an alarm on your phone when you enter the store; once it goes off, take what you have and get in line. This can also help you save money, as retailers want to keep you in the store for as long as possible.
Secure your cash & cards
If you're using a purse, make sure it is one that closes securely. You can also keep it slung over your shoulder under your jacket to keep it away from opportunistic thieves. It may be uncomfortable, but we think everyone would be willing to sacrifice a little comfort if it means preventing theft.
Don't forget the gift receipt
This may be the most important thing other than what's actually on the list. Practice with us: "Can I get a gift receipt with this in the bag, please?"
Stay calm and collected
Black Friday shopping can get hectic and a little stressful. Relax, take a breath and keep calm. If you need to, take a moment in the bathroom, changing room or your car to de-stress.
Black Friday is all about surviving the day without spending too much or buying things you don't need. If you're planning on heading out to get some deals, take these tips with you to make it a successful day.
Timberwood Bank, Equal Housing Lender, Member FDIC