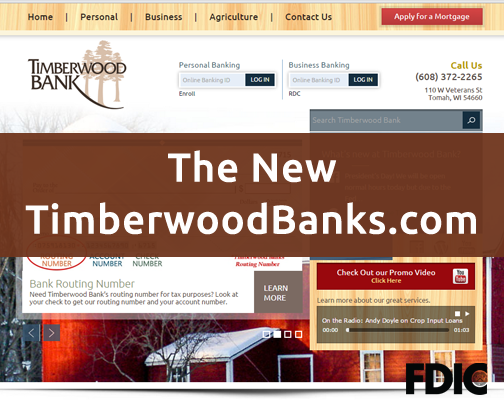 In the beginning of February, we launched the new TimberwoodBanks.com. The new website fills a critical need to make information regarding our products and services and vital resources more organized and available to current and potential customers. We feel the new design and layout of the website communicates who we are as a community bank.
You may have received a few emails in the previous weeks regarding various features of the new website. For those who did not and for the sake of organization, we would like to walk through these and other features for you to help you get more comfortable with the new TimberwoodBanks.com.
Responsive Design
Our new website was built with responsive technology. This means it responds to any screen size – desktop, laptop, tablet or smart phone – to fit all the information in a pertinent order without requiring you to pinch, zoom or scroll side to side.
 Mortgage Center
Our online Mortgage Center allows you to check rates, apply for a mortgage, get in touch with our mortgage lenders and much more simply by clicking this red button at the top of every page of our website.
Online Banking Logins and Contact Info
Login areas for both Personal and Business Online Banking are located conveniently at the top of the page, as is our phone number. When visiting the website on a mobile device, the Online Banking logins and our phone number will be at the top of the page for your convenience. If you need to give us a call from your smart phone, simply tap the phone number and you will be prompted to call Timberwood Bank.
The Marketing Message
This is a visual hub for information regarding bank services. It may also be used at times for urgent messages such as bank closures, security issues and more.
Social Feed
This area of the home page keeps you up to date on everything happening at Timberwood Bank. Our latest Facebook and blog posts are available for you to click on, as are icons for the various social networks we are a part of. You can also listen to Timberwood Bank's radio spots in our audio player.
Community Events
By selecting this icon on the home page you will be taken to a list of upcoming community events Timberwood Bank wants to promote. You can also reach this page by selecting the "Why Timberwood" graphic button on the home page and then selecting "Community News and Events" in the right side menu.
Forms and Applications
The addition of online forms and applications is a huge part of our new website, and we are excited to feature them. By selecting this icon on the home page, you will be taken to a list of our online applications that include a Business Loan application, Deposit Account application, Consumer Loan application and a link to our mortgage application in our online Mortgage Center.
We invite you to look through our entire website to get more comfortable with the layout. If you have any questions, please don't hesitate to give us a call. We look forward to seeing you soon!
Timberwood Bank, member FDIC