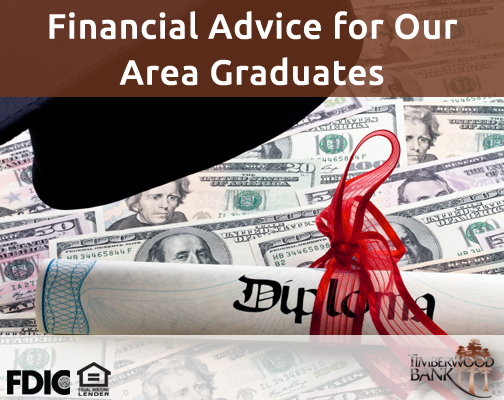 You've completed your last class, you have your cap and gown, and you are ready to finally hit the real world! Graduation can mark the transition between youth and adulthood, and as such, it carries a lot of unknowns. Timberwood Bank would like to take time in today's blog to cover some financial dos and don'ts this year's high school and college seniors should be aware of:
DON'T use a credit card, if you can help it. It's easy to get into a vicious cycle of only making the minimum payment every month, and you end up paying more in the end because of interest. If you already have one that you used to float you through college, pay it off as soon as you can
DO start building an emergency fund. This will allow you to not have to rely on the above-mentioned credit card when things get rough. Even putting a few dollars every paycheck into an emergency account will allow it to grow over time.
DON'T order out every night. It's an easy habit to get into, especially when you're used to the dining center on campus. But, this can add up quickly. Learning how to cook is one of those adult skills you must now learn.
DO start investing in your retirement. It seems a little absurd– after all, you did just move into a new phase of your life, so why start thinking about the next one when it's so many decades away? Well, let's put it this way—would you throw away free money? Because often, NOT participating in your company's 401K is doing exactly that. Many companies will match your contributions up to a certain percent, so by not investing your money now means you're turning down free money.
If you want to start a savings account, Timberwood Bank can help you there. Visit https://www.timberwoodbanks.com/personal/savings to learn more.
Timberwood Bank, Member FDIC and Equal Housing Lender