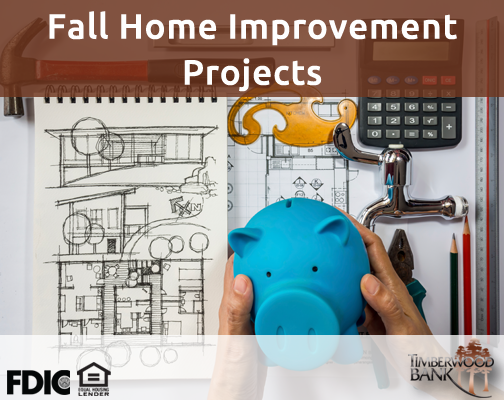 Fall has once again come to Wisconsin, which means a few things have become certainties: college football on Saturdays, the return of your favorite jacket to your wardrobe and local farmers finishing up the harvest season.
Another certainty is the eventual change of the weather from pleasant and crisp to windy, cold and miserable. Luckily, the weather in October is generally nice enough to allow you to make some final renovations to your home to save energy once the temperature begins to drop.
At Timberwood Bank, we're all about trying to help you save money. Try these short, but beneficial fall home projects to save energy and money throughout the fall and the rest of the year.
Replace your windows with energy-efficient models
"They're just windows, how much can the really help?" The answer:  a lot. Energy Star estimates that for the region that includes Wisconsin, replacing a single-pane window with an energy-efficient model will save $353 and about 2,700 pounds of CO2 per year (the equivalent of about 137 gallons of gasoline). Now multiply that times the number of windows you replace and you're looking at quite the savings.
Weather stripping
Thirty to 40 percent of your heating costs are lost to air leaks, according to Energy Star. Weather stripping materials start for around $5 in most home improvement stores, making them a cheap way to patch up any areas you're losing heat from.
A programmable thermostat
By setting a heating schedule for your home, you are able to determine when your furnace is on and how hard it is working. A programmable thermostat adds credence to the motto, "Work smarter, not harder."
Adding or replacing insulation
This can help reduce your heating costs by as much as 20 percent according to Green Energy Solutions, Inc. It's another cost-effective way to make your home energy efficient, as a roll of insulation starts at $15-20.
Installing low-flow faucets and showerheads
Reduce the amount of work your water heater does by limiting how much hot water you use with low-flow faucets and showerheads. Combine these with shorter showers, and you're looking at a flood of savings.
Which of these ideas jumps out at you? Whichever project you want to take on, or if you have something else in mind, Timberwood Bank can certainly help with the financing. Our home equity lines of credit, or HELOCs, are a flexible way to get the funds you need to cover your project's expenses. Just call or stop by today to learn more and to get started.
We hope to see you soon!
Timberwood Bank
Equal Housing Lender
Member FDIC